Buy Cannabis Seeds at ARIZONA Seed Bank
MARIJUANA SEEDS FOR SALE IN ARIZONA
Welcome to the realm of premium cannabis seeds in Arizona, where cultivation meets excellence. At The Arizona Seed Emporium, we take immense pride in presenting a diverse selection of top-tier cannabis seeds tailored to cater to the unique needs and preferences of every grower. Whether you're a seasoned cultivator or a newcomer embarking on your cannabis journey, our dedicated team is here to guide you in finding the perfect seeds for your Arizona cannabis adventure.
BEST WEED SEEDS IN ARIZONA
Exploring Premium Cannabis Seeds in Arizona
A Commitment to Quality and Reliability
When you choose The Arizona Seed Emporium, you're choosing unwavering quality, consistency, and reliability in every seed you acquire. We are dedicated to providing you with top-notch cannabis seeds that thrive in Arizona's climate, ensuring your success as a cultivator.
Arizona's Premier Cannabis Seed Haven
Arizona's cannabis enthusiasts have developed a profound appreciation for a diverse array of strains. Among the most revered choices in the state are Sunset Sherbet seeds, Granddaddy Purple seeds, and Purple Gelato Seeds. These strains have captured the hearts of Arizona's cultivators with their unique characteristics and exceptional qualities.
Thriving in Arizona's Climate
For outdoor cultivators, Arizona's distinctive climate offers an ideal environment for strains like Arizona Peach Kush and Arizona Green Giant. These strains not only flourish in the state's conditions but also yield abundant harvests, making them highly sought-after choices for local growers.
Elevating Indoor Cultivation
Indoor growers can also explore a range of premium cannabis strains tailored specifically for optimal indoor cultivation. Our selection caters to those who prefer to cultivate their crops in a controlled environment, ensuring the best possible results.
Discovering Popular Marijuana Strains for Arizona
Beyond these cherished strains, our collection offers a world of possibilities customized for Arizona's discerning growers: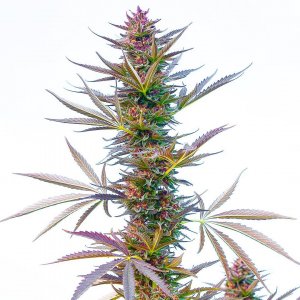 Hindu Kush Seeds: An Arizona Classic
Hindu Kush seeds epitomize classic cannabis excellence. Known for their soothing and relaxing properties, these seeds are a must-try for those seeking a serene experience in Arizona.
Tangie Seeds: A Burst of Citrus
Tangie seeds provide a burst of citrusy flavor and uplifting effects. Their zesty aroma and clear-headed high make them an enticing choice for cannabis aficionados in Arizona.
Super Silver Haze Seeds: Potent and Cerebral
Super Silver Haze seeds bring a potent and cerebral experience to Arizona's cannabis scene. With their distinct flavor and euphoric buzz, they are a powerful addition to any cultivator's repertoire in Arizona.
Cultivating Excellence with The Arizona Seed Bank
Handpicked Premium Cannabis Seeds
In the world of cannabis cultivation, The Arizona Seed Emporium firmly believes that the path to excellence begins with the selection of impeccable seeds. Hence, we exercise meticulous care in curating our collection of top-quality cannabis seeds. Our focus remains unwaveringly fixed on quality and dependability, and we handpick each seed to ensure you receive the very best in genetics.
A Diverse Spectrum of Strains
Our extensive selection comprises a plethora of strains, from time-honored classics to extraordinary and captivating hybrids. Whether you seek strains with elevated THC levels for an intensified experience or CBD-rich variations for therapeutic endeavors, our inventory encompasses it all.
The Personalized Touch
What sets us apart is our commitment to delivering a tailored experience. Our knowledgeable team is ready to guide you through the seed selection process, offering insightful counsel and recommendations based on your unique needs and preferences. We take immense pride in assisting you in finding seeds that align perfectly with your aspirations.
Empowering Growers
Aside from our top-notch seeds, we provide a wealth of resources to empower you on your cultivation journey. From comprehensive guides on cultivation methodologies to expert advice on optimizing yield and potency, we are dedicated to imparting the knowledge necessary for your success.
Quality Assurance
Rest easy knowing that when you choose The Arizona Seed Emporium, you are in possession of the finest cannabis seeds available, backed by a germination guarantee. Our seeds are meticulously sourced from reputable breeders and subjected to rigorous testing to ensure their viability and genetic integrity. Recognizing that each seed represents an investment, we are committed to affording you the highest probability of success.
Unveiling The Arizona Seed Emporium
A Beacon of Cannabis Seeds in Arizona
An Arizona seed emporium, often referred to as a pot seed source, is a sanctuary for procuring cannabis seeds in Arizona. Its mission revolves around presenting a diverse assortment of premium cannabis seeds, including medical marijuana seeds, to cater to discerning cannabis cultivators. This platform allows customers to select from a variety of marijuana seed strains, ideal for nurturing cannabis plants in the comfort of their own homes. These seeds are chosen with meticulous attention to distinctive characteristics, including flavor profiles, potency levels, and growth patterns. Within our collection, customers can opt for autoflowering, feminized, or regular marijuana seeds.
Premium Cannabis Seeds in Arizona
The Arizona Seed Emporium is dedicated to delivering the finest cannabis seeds in Arizona. Our extensive array comprises an eclectic mix of premium strains, each meticulously handpicked to cater to your specific requirements and desires.
Tailored to Your Preferences
Whether you seek strains with specific flavor profiles, elevated potency levels, or distinct growth patterns, our collection spans the spectrum. Our expert team dedicates itself to personally selecting each seed, guaranteeing you superior quality and outcomes.
Empowerment Through Knowledge
Our commitment extends beyond the transaction. Whether you're a seasoned cultivator or a novice, our team serves as your trusted source of wisdom and support. The Arizona Seed Emporium is not just a supplier of seeds; we are your educators in cannabis cultivation techniques and state laws.
Our Commitment to Excellence
At The Arizona Seed Emporium, we prioritize customer satisfaction, stringent quality control, and discreet shipping. Your trust in our mission ensures that you receive nothing but excellence in every aspect of your cannabis cultivation journey.