INDICA SEEDS
Indica seeds produce some of the most potent and medically beneficial cannabis plants currently available. Cannabis Indica strains can often be identified by their pungent or sweet aroma and strong, distinct flavours.
INDICA SEEDS FOR SALE USA
Indica seeds tend to produce relatively short, stocky plants which are typically easier to grow than Sativas and generally produce a much more generous yield than Sativa Seeds. The Indica leaves are larger and broader than those of Sativa Strains. Indica plants exhibit a shorter growth profile and most strains generally grow between 2 to 5 feet tall. The flowers of an indica plant are denser and also larger in diameter than sativa strains. The most common terpene profile of an indica strain would be sweet, musky, fruity, and piney. The cannabinoid content is usually higher which is why indica strains are better suited for hash making.
---
---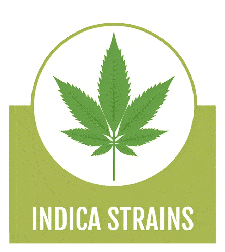 FEMINIZED INDICA CANNABIS SEEDS
Indica cannabis seeds deliver some of the most potent and medically effective cannabis products. The words "Indica" and "Sativa" originated during the 18th century to describe the different species of cannabis plants. Cannabis indica refers to the intoxicating varieties discovered in India and modern-day Pakistan, where it was harvested for its seeds, fiber, and hashish production. Seeds from this region were collected and brought back to American and Europe where they were selectively bred to produce high-quality resinous cannabis plants.
Indica seeds are often used to produce
medical marijuana
for the treatment of a long list of medical issues. Issues such as anxiety, chronic pain, sleep disorders, and to medically treat seizures, migraines and headaches. Due to their short and compact stature and speedy harvest, cannabis indica seeds and marijuana indica varieties are ideal plants to grow indoors.
CANNABIS INDICA EFFETS
Cannabis indica strains have a high medicinal value thanks to the sedating, and analgesic effects that they produce. Indicas are ideal for reducing inflammation, relieving stress, stimulating the appetite, and combating insomnia. The high is happy and euphoric but can cloud your mind and leave you feeling a little slower, this is why Indicas are commonly referred to as "nighttime strains". A pure indica will leave you feeling relaxed and unmotivated. One sign of a true indica is the effect of not being able to finish smoking after the first couple puffs, instead, users will sit holding the joint or pipe for a rather long time while spacing out before realizing that they haven't even finished smoking yet.
WHY USE INDICA SEEDS?
There are many reasons why you should consider growing indica dominant strains. For example, Indica plants are much smaller and take up less space than
Sativa Strains
, which can grow to massive heights.
Indicas also mature faster than Sativas. An indica garden can be grown harvested, trimmed, and cured, while a
Sativa
garden is still only in the flowering stage. The terpenes and cannabinoids that indica strains offer are some of the most highly praised in the cannabis world. The amazing flavor and potency of Kush strains come from the predominately indica genetics that originated in the Hindu Kush mountain range. Indica plants also grow better in cooler climates and have a stronger resistance to pests. Although molds can affect the buds due to their dense construction.
HOW TO GROW INDICA WEED SEEDS
Indica seeds should be started the same as any other type of marijuana seed. You can reference our How to Germinate Cannabis Seeds article. Because Indicas tend not to grow as tall as Sativas, you can grow Indica plants in a smaller garden space. After the seeds are germinated, plant them in your preferred substrate and initiate the vegetative cycle by putting the plants into either an 18/6 on/off light cycle or just a straight-up 24 hour light cycle. Indicas don't stretch as much as Sativas so if you want to top them it's best to do it only once. After entering the flowering phase, the dense buds can become susceptible to botrytis if proper care is not taken to prevent this. Some of the measures you can take to avoid bud rot are: making sure you have very good ventilation. Not just a single fan blowing around the room but an actual intake and exhaust system with added fans for moving the air around the grow space. Keeping the plants trimmed to lower canopy humidity and increase air circulation. Avoid overwatering which can lead to higher humidity, fungus gnats, and other root health problems.
Make sure you are ready to stake or trellis the plants if needed. The extra heavy flowers produced by indica plants can potentially snap if they are not anchored properly. Carefully inspect the resin glands to help time your harvest. When 25% or more of the trichomes lose the clear color and start to look milky, this indicates that it's time to start flushing the plants. Depending on how stoney you want the finished product to be, you might choose to harvest when the trichomes are mostly amber-colored. For an extra couch-lock effect, leaving the plants in full light deprivation for up to 48 hours before harvest will produce a stronger sedative effect.
BEST INDICA SEEDS USA
If you are looking to buy Indica seeds, then get the best ones you can find that fit your budget. Premium seeds should be procured from experienced and reputable breeders. Seed Bank offers top-quality Indica seeds from varying genetics. We produce our marijuana seeds from elite tested cultivars and our seeds offer extremely high germination success rates.