Buy Cannabis Seeds at VIRGINIA SEED BANK
MARIJUANA SEEDS FOR SALE IN VIRGINIA
You've come to the right place. Our seed bank has gained quite a following among cannabis enthusiasts across the state and we're dedicated to providing exceptional cannabis seeds and genetics that will surpass your expectations.
Explore Our Extensive Online Seed Catalog
Explore our extensive online seed catalog and embark on a journey filled with a wide range of premium feminized cannabis seeds, autoflowering varieties, and potent strains. Rest assured, we offer secure and discreet shipping services throughout Virginia. No matter if you're an experienced grower or just starting out on your cannabis journey, our seed bank is here to fulfill all your growing needs.
BEST WEED SEEDS IN VIRGINIA
Find the Best Cannabis Seeds in Virginia?
Curious about where to find the best cannabis seeds in Virginia? Look no further than our reliable seed bank! Our user-friendly online catalog makes it convenient for you to purchase top-notch cannabis seeds from anywhere in the state. From Richmond to Virginia Beach, Norfolk to Chesapeake, Roanoke to Arlington and every city in between—we cater to all Virginia based cannabis enthusiasts. So whether you call Newport News, Hampton, Alexandria, or any other city home, our premium marijuana seeds are only a few clicks away!
We have a wide variety of top-quality feminized seeds, autoflower seeds, hybrid strains, and high THC marijuana seeds to cater to different types of growers' preferences.
Now that cannabis seeds are legally available in Virginia, you can confidently purchase them online and begin your cultivation journey.
Best Cannabis Strains for Virginia
In Virginia, cannabis enthusiasts have a fondness for various strains. Some of the most popular choices in the state include Blue Dream, Sour Diesel, and Green Crack.
If you're growing outdoors, it's worth considering strains like Northern Lights or Afghan Kush. These varieties are well suited for Virginia's climate and offer impressive yields.
Indoor growers will appreciate our premium selection of feminized seeds designed specifically for optimal indoor cultivation.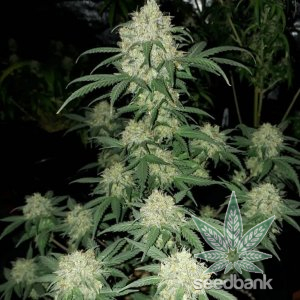 Blue Dream is highly cherished in Virginia due to its balanced effects and delightful berry undertones. It thrives equally well indoors and outdoors, making it a versatile choice.
Sour Diesel is another favored option among Virginia growers. It offers a pungent aroma and potent effects. When grown indoors, it produces robust yields of high-quality buds.
Green Crack is highly sought after for its energetic and uplifting effects. Looking to grow cannabis indoors? It's a great choice as it yields high-quality, resinous buds.
Curious about the Legality of Purchasing Cannabis Seeds in Virginia?
Curious about the legality of purchasing cannabis seeds in Virginia? Well, while recreational cannabis is still illegal in Virginia, you'll be pleased to know that buying cannabis seeds is perfectly legal. The reason being that these seeds do not contain THC, which is the psychoactive compound found in marijuana.
In Virginia, individuals with qualifying medical conditions are allowed to possess and use medical marijuana. If you have a medical marijuana card, you have the legal right to cultivate your own marijuana plants at home.
For up-to-date information on Virginia's cannabis laws, consider consulting the Medical Cannabis Program provided by the Virginia Department of Health.
Virginia's Trusted Source for Premium Cannabis Seeds
Your Reliable Seed Bank in Virginia
Our seed bank is proud to offer an exceptional selection of cannabis seeds carefully sourced from reputable breeders. We partner with trusted names like East Coast Genetics, Shenandoah Seeds, and Blue Ridge Breeders to provide you with top-notch genetics for your cannabis cultivation journey.
What Exactly Are Seed Banks?
But what exactly are seed banks? Seed banks are online platforms that offer a diverse catalog of plant genetics available for purchase. At our Virginia-based seed bank, we're dedicated to supplying premium cannabis genetics and marijuana seeds specifically tailored for the people of Virginia. Rest assured that we prioritize secure and discreet delivery statewide through our express shipping service.
We strive to establish ourselves as the leading seed bank in Virginia, offering our esteemed customers high-quality cannabis strains and authentic genetic seeds directly from the breeders.