New Cannabis Seeds: Discover Exotic Weed Strains
Change is good. Especially when change includes a whole fresh batch of exciting new strains, with more yield and even higher potency.
Many of these strains are the result of selective breeding projects to isolate and enhance the best qualities of some of the more established and popular strains.
These new strains include everything from deliciously aromatic purple strains that will sink you into the couch, to the heady sativa dominant plants that boost your energy and give you a smooth social high.
---
Exotic Cannabis Strains
Welcome to our collection of exotic cannabis seeds! We are thrilled to offer you a diverse selection of extraordinary strains that will take your cannabis experience to new heights. Our team has carefully curated this collection, ensuring that each strain possesses unique characteristics and delivers an exceptional high. Among our exotic cannabis strains, you will find a range of flavors, aromas, and effects that cater to every preference and desire. Indulge in the enchanting allure of purple indica strains, whose aromatic bouquet will transport you to a world of relaxation and tranquility. These strains are perfect for those moments when you just want to sink into a deep state of blissful relaxation. Alternatively, if you're looking for an amazing strain with a burst of energy and a social high, our sativa dominant strains like White Widow will lift your spirits and keep the good vibes flowing. What sets our exotic cannabis seeds apart is not only their incredible flavors and aromas but also their potency. We have carefully selected and bred these strains to ensure they deliver a powerful and long-lasting high that will leave you wanting more. So whether you're an experienced connoisseur or just starting your journey with cannabis, our collection of exotic weed strains is sure to impress. Explore our selection today and discover
What are exotic marijuana seeds?
Exotic marijuana seeds refer to cannabis seeds that are unique and not commonly found, also known as unique cannabis strains. These strains often possess distinctive flavors, aromas, and effects that set them apart from more common varieties. They are carefully bred and selected to offer users a unique and exceptional cannabis experience. Each exotic marijuana seed in our collection has been meticulously chosen to provide a one-of-a-kind journey into the world of cannabis, including exotic marijuana strains. These seeds are for those who seek something different, something extraordinary. When you indulge in our exotic strains, you're not just consuming cannabis - you're embarking on an adventure. From the moment you take that first hit or inhale, you'll be transported to a realm of sensory delight. The flavors and aromas will tantalize your taste buds and awaken your senses like never before.
What are some examples of an exotic weed strain?
Purple Haze: A Legendary Sativa-Dominant Hybrid
Overview:
Purple Haze is a legendary sativa-dominant hybrid strain with a rich history dating back to the 1960s.
Its fame skyrocketed thanks to the iconic Jimi Hendrix song bearing the same name.
Characteristics:
The strain is easily recognized by its vibrant purple and green buds, often covered in a frosty layer of trichomes.
Purple Haze offers a unique aroma with sweet and earthy notes, complemented by hints of berry and spice.
Effects:
Purple Haze typically delivers uplifting, euphoric, and creative effects.
It's an excellent choice for daytime use, inspiring creativity and positivity.
Cream Caramel: The Sweet Indica-Dominant Hybrid
Overview:
Cream Caramel, also known as Sweet Seeds' Cream Caramel, is a beloved indica-dominant hybrid strain.
Characteristics:
This strain is famous for its delightful sweet and caramel-like aroma and flavor, reminiscent of sugary candies.
The buds of Cream Caramel are dense and often coated in resin, making it a favorite for resin extraction.
Effects:
Cream Caramel induces relaxing, soothing, and euphoric effects.
It's an ideal choice for unwinding and relieving stress, offering a balanced experience.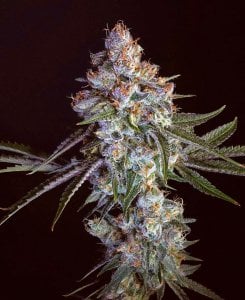 Cherry Pie Strain: The Flavorful Hybrid Delight
Overview:
Cherry Pie is a well-regarded hybrid strain cherished for its mouthwatering cherry and earthy flavors.
Characteristics:
Effects:
This strain provides relaxing and mood-enhancing effects, making it suitable for both recreational and medicinal users.
It's often chosen for managing symptoms like anxiety, depression, and chronic pain.
These exotic weed strains offer a diverse range of flavors, aromas, and effects, catering to the preferences and desires of cannabis enthusiasts. Whether you're seeking a creative boost, relaxation, or a unique tasting experience, these strains exemplify the variety and excitement that the world of cannabis has to offer.